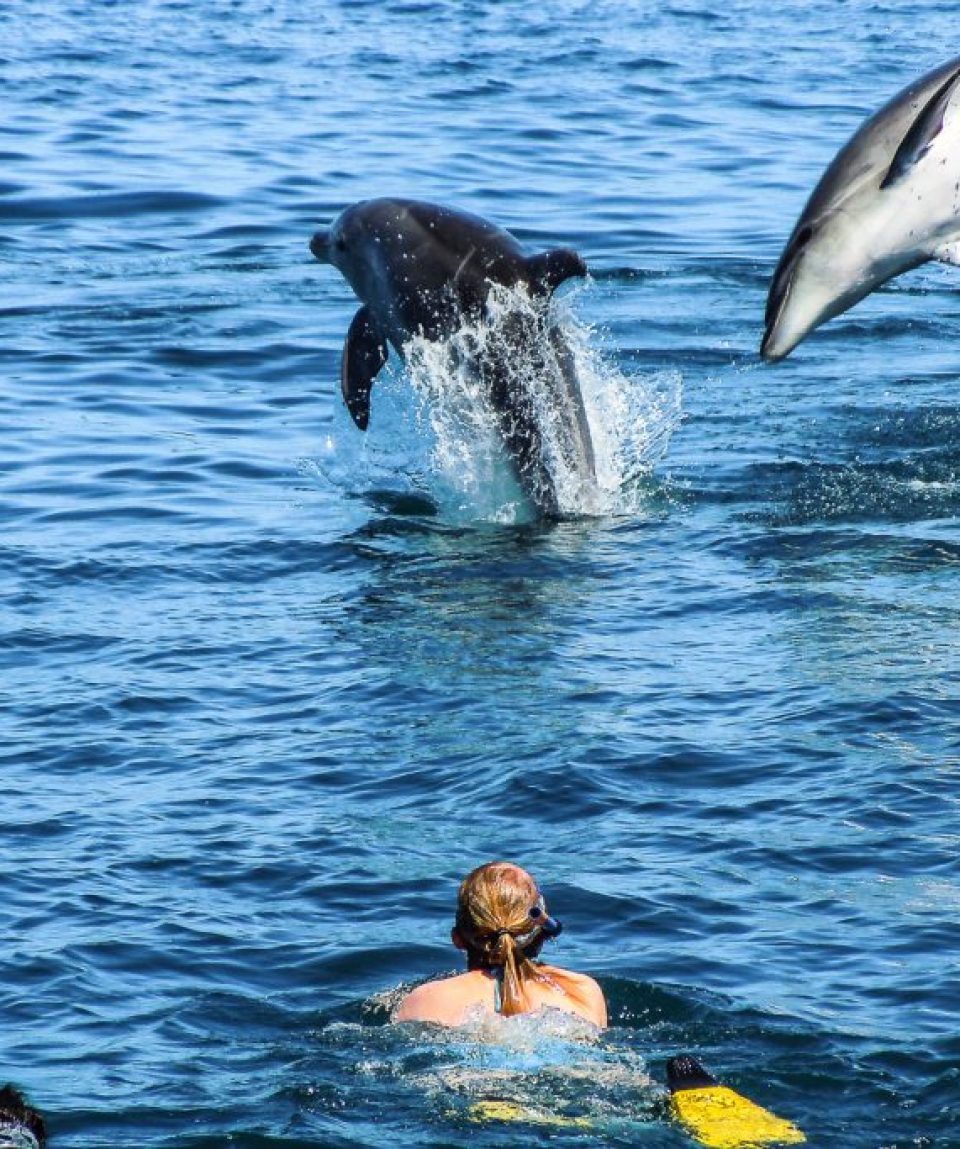 Swim with Dolphins
Select the date you want to do the activity and send us the further details required, our team will quickly reply back with the pricing details.
Vacation Style

Holiday Type

Discovery, Family, Guided Tours
All about the Swim with Dolphins.
Dolphins are known as one of Earth's most intelligent animals. Dolphins are highly social animals, often living in pods of up to a dozen individuals. We are really lucky to have wild dolphins such as the Spinner & Bottlenose, roaming freely in our blue turquoise lagoon. Swim with Dolphins is an amazing activity where you will discover Dolphins in their natural habitat. Here are several options on how you can observe and safely swim with them.
We recommend that you do this specific activity with our South West Excursion because there is more value and it is on the way. In case you choose to do the activity only, please send your place of accommodation and select your private transportation type while booking so that a price can be quoted via email.
Activity tickets cost as follows:
     ➊  Adult- MUR 1300
     ➋  Child (3 to 9 yrs)- MUR 800
The tour package inclusions and exclusions at a glance
What is included in this tour?
Items that are included in the cost of tour price.
Pick up and drop off from any hotel/place of accommodation anywhere in Mauritius
Full transportation (as a supplement)
A personal driver
A free water bottle is provided
What is not included in this tour?
Items that are not included in the cost of tour price.
Transportation fees are not included in the activity fees.
This activity is monitored closely and is under the supervision of professionals.
This activity depends on the weather conditions. In case of bad weather, the activity can be rescheduled or a full refund can also be issued.
The embarkation point must be reached 15 mins before the start time.
Start / End time: 08:00 – 10:00
Please note that the number of Dolphins on the spots and the behavior of the animals change every day. These factors cannot be controlled and the encounters cannot be predicted in advance. The team will adapt and do their best to bring you a special interaction.
Snorkeling equipment is provided. If you have your equipment, definitely bring it with you. Do not forget sunscreen and sunglasses.
Simple beach footwear is the most suitable.
Make sure you bring swimsuits, spare clothes, towels, and sunscreen.
No. We provide private tours only. The vehicle will be exclusively yours for the whole day.
Your driver will pick you up at your provided place of accommodation.
You will receive your driver's contact details via email the day you book for the activity. In case, you are having trouble finding your driver, you can simply call him or our office.
All of our vehicles are fully licensed and insured by the local authorities. They all carry a PSV license. They are new and well maintained.
While booking, you can check the box for the baby seat and the seat will be provided. It is free.
Pay directly to the driver in MUR, EUR, or USD or pay online securely using PayPal.
You can now pay with PayPal using your credit card even if you do not have a PayPal account.